>
Thassos 2006
Diving in Thassos has only been allowed since february 2006, so it is a quite new business on this island. In the town of Potos on the south-coast I found Vasiliadis Diving Club, who rents equipment and arranges diving tours for both new and more experienced divers. Vasilis Vasiliadis himself is a most experienced and very responsible diver. His shop is located in the main street of Potos and his boat, accommodating 8-10 divers, lies at the pier in Potos harbour. I enjoyed diving with him and for the first time I had the chance to test my new digital UW camera.
Video clip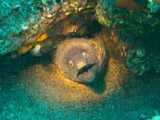 Click on the picture to watch the video.
Turn on your speakers to hear the soundtrack.
Photo gallery and slideshow