Exhibitions
VRROOOM Motorcycle Design
This exhibition in the Danish Museum of Art & Design shows the history of the motorcycle from a design perspective. More than 60 of the most fascinating and admired motorcycles illustrates the development trough the 20th century. Download material about design, film, and fashion. This is only in Danish.
MC in Tappehallen - February 2008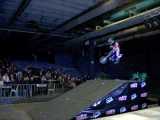 Recording from the MC floor show in Tappehallen.
Click on the picture to watch the video.
Turn on your speakers to hear the soundtrack.
MC in Tappehallen - February 2007
MC in Tappehallen - February 2006
MC in the Bella Center - February 2005
The exhibition showed a lot of new chinese models from manufacturers such as: Lifan, Loncin, Zongshen and Geely. The latter has been on the danish market for two years and is the cheapest bike you can get.
MC in Oeksnehallen - February 2004